Carla's agony as intimate photos of her with ex-lover are stolen in raid on Paris flat
Mail Online 29 Aprile 2009
La Putain de la Republique....
Hundreds of 'highly intimate' images of the French president's wife and her former lover have been stolen during a burglary.
The photographs and videos of Carla Bruni, who is on an official trip to Spain with Nicolas Sarkozy, date from the 41-year- old's affair with philosopher Raphael Enthoven.
Thieves broke into the Paris flat of his brother, 27-year-old actor Julien Enthoven, where the prints and videos were being kept, and stole them.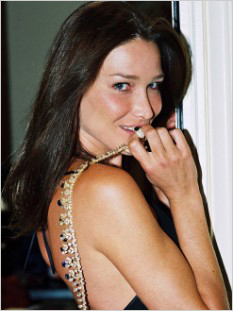 Police believe the images could be posted on the web, serving to embarrass Nicolas Sarkozy or be sold for a sizeable sum, thanks to his third wife's status.
A source said: 'The thieves appeared to know exactly what they were looking for, taking highly intimate prints, a camera full of further images, videos, and numerous computer files.
'They broke into Mr Enthoven's flat in Rue Dauphine, in the sixth arrondissement, on Sunday night, smashing a window in the sitting room which looks out on to the courtyard. Nobody was at home at the time, and nothing else was taken.'
Raphael, who fathered Miss Bruni's son Aurelien, eight, is believed to have entrusted the pictures to his brother as he did not want them to embarrass his new partner, or Mr Sarkozy, a detective working on the case said.
The Sarkozys arrived in Spain the day after the raid.


---
Embarrassment: Carla Bruni yesterday in Madrid with the Spanish Prime Minister's wife Sonsoles Espinosa Diaz
---
But neighbours in the mansion block where Julien Enthoven lives said it was 'suspicious'.
'It's almost impossible to get into any of the flats here, and burglaries are pretty much unheard of,' said Jean-Frederic Avel.
Miss Bruni had been living with the Enthovens' father, the Paris philosopher Jean-Paul, in the late 1990s before leaving him for his married elder son.
Raphael's ex-wife, the author Justine Levy, never forgave her, portraying Miss Bruni in a book as a 'husband stealer' with a 'terminator smile'.


---
---
Ms Bruni and Raphael Enthoven - who is said to have entrusted the intimate snaps to his brother so that they would not fall into the wrong hands
Last year, just before a state visit to Britain, nude pictures of Miss Bruni, a former model, were released.
Since then she has been trying to tone down her image.

In February the home of the president's brother, Francois Sarkozy, in the upmarket suburb of Neuilly was raided, with the loss of official documents and cash.
A week earlier £500,000 worth of jewellery was taken from the Neuilly apartment of Cecilia Attias, Mr Sarkozy's second wife.
Of the most recent theft, a police source said: 'We can not rule out a link with earlier burglaries.'


---
Brave face: French PM Nicolas Sarkozy and Carla Bruni try to put aside their fears on official duty in Madrid

---

By Peter Allen

Source > Mail Online | Apr 29