Archivio

Articoli

Copia di Worldwide
India's dreams of 10% growth hit by reality
The Wall Street Journal Europe 22 Aprile 2008
NEW DELHI:
India's economy miracle is losing its magic, raising doubts about whether the nation can fulfill its ambition of becoming the next economy superpower.

Government officials and other India boosters hoped India had become one of those rare economies— such as China today and Japan in the 1960s—that could grow around 10% annually for a decade regardless of what happened in the rest of the world. Growth in India's gross domestic product has averaged just shy of 9% for the past five years. It reached 9.6% in the fiscal year that ended March 31, 2007, allowing India to finally gain some respect among the economies of Asia. The government forecasts that the economy grew 8.7% in the fiscal year that ended last month.

But as the global slump and rising inflation take their toll, it is becoming clear that the rapid expansion was due in part to benign conditions that boosted emerging markets everywhere—and that India remains vulnerable to economies cycles. Some forecasters now say GDP may grow just 7% or a tad higher this year and maybe even next.

The difference between 7% and 9% expansion may not sound like much, especially when some countries, including the U.S., are struggling to show any growth at all. But it will make an important difference to India.

"Seven percent is a good rate it's not stagnation—but India's economy needs to grow at 9% to 10% for some years to wipe out the deficit of previous growth rates," says Ashok Jha, a former finance secretary and now president of Hyundai Motor Co.'s Indian unit.

Expectations for growth are so high that anything less than a riproaring performance could stali the forward momentum of the recent expansion. A slowdown also would render India less able to take up the slack in the global economy caused by the problems in the U.S. and Europe. India has become a hot destination for U.S. goods. The U.S. Commerce Department says India as a market for U.S. exports is expanding at a rate of 75% a year.

A slowdown also would put India further behind in its bid to rival China as a regional and global power. China's economy expanded 10.6% in the first quarter, according to government data.

"To grow almost as fast, or faster, than China has become something of a national imperative," says Suman K. Bery, director general of the National Council for Applied Economies Research in New Delhi. Otherwise, "we will be completely eclipsed in what we consider to be our backyard."

India also has a lot of catching up to do in reducing poverty and moving workers from farm to factory or services jobs. Its population of 1.1 billion, unlike China's, is heavily skewed toward the young.

But India can only reap that "demographic dividend" if there are enough jobs for those entering the labor force each year. Widespread joblessness could exacerbate India's social tensions, especially when television is making the underprivileged increasingly aware of what they lack.

According to the government's Economy Survey, employment grew 2.6% a year from fiscal 2000 to fiscal 2005. But the labor force grew by 2.8% over the same period. The resulti The unemployment rate rose to 8.3% from 7.3% during the period.
With growth slowing, India's benchmark stock index is down 19% so far this year. Property prices are softening, too. Sales of scooters and motorbikes dropped by almost 8% in the 12 months that ended March 31, after climbing 11% the previous 12 months, according to the Society of Indian Automobile Manufacturers.

India's technology industry, the flagship of the nation's modernization, will likely see revenue growth slow to 22% in the current fiscal year, down from 28% in the year ended March 31, says Som Mittal, president of Nasscom, an industry association. Profit margins also face pressure.

Higher inflation, led by food and commodity prices, is compounding concerns. Wholesale inflation, which is calculated weekly, is running in excess of 7%. With one year left in its current term, the coalition government led by the Congress Party has suggested that fighting inflation, at least for now, is more important than maintaining growth.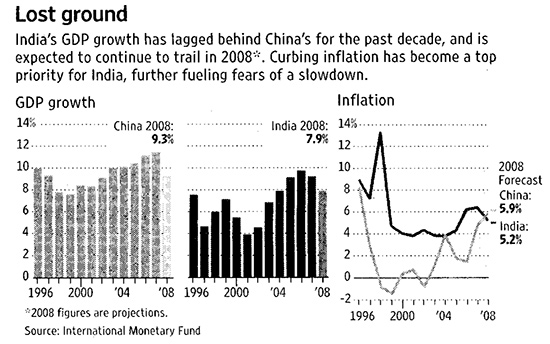 "We will contain inflation without sacrificing too much on growth," Finance Minister P. Chidambaram told the upper house of Parliament on Wednesday.

To fight inflation, the Reserve Bank of India took emergency action Thursday, increasing the cash that banks need to keep in the central bank's coffers. The move was designed to reduce the amount banks have available to lend. (The day before, China's central bank increased, for the third time this year, the amount of funds banks must keep in reserve).

"The Reserve Bank will continue its policy stance of active liquidity management to contain any pressures of incipient inflationary expectations," Rakesh Mohan, deputy governor of India's central bank, says by email.

The Reserve Bank will take up the issue further when it provides an update on its monetary policy, scheduled for April 29. Y.V. Reddy, the governor, said in a recent television interview that "the level of inflation is unacceptable to us and it is higher than our tolerance limit" of dose to 5%.

Some observers see a risk that the central bank will overdo it as it raises interest rates. If the Reserve Bank raises rates by one percentage point by year end, it could reduce India's growth to about 6% or 6.5%, according to Chetan Ahya, a Morgan Stanley managing director in Singapore who follows the Indian economy. "That would be a recession by Indian standards," he says. He forecasts 7.1% growth in the current fiscal year.

What will it take to get India soaring again? Common answers among economists: Sustained investment in the nation's decrepit infrastructure and another round of economies reforms that make labor policy more flexible and that deregulate the financial industry. Massive investment already has built new ports and upgraded highways and airports. But economists say much more is needed, especially in electric power.
By Jackie Range And Paul Beckett
Source >
The Wall Street Journal Europe
Libreria Ritorno al Reale


EFFEDIEFFESHOP.com
La libreria on-line di EFFEDIEFFE: una selezione di oltre 1300 testi, molti introvabili, in linea con lo spirito editoriale che ci contraddistingue.


Servizi online EFFEDIEFFE.com


Redazione : Conoscete tutti i collaboratori EFFEDIEFFE.com


Contatta EFFEDIEFFE : Come
raggiungerci e come contattarci
per telefono e email.


RSS : Rimani aggiornato con i nostri Web feeds


| | |
| --- | --- |
| | Il sito www.effedieffe.com.non è un "prodotto editoriale diffuso al pubblico con periodicità regolare e contraddistinto da una testata", come richiede la legge numero 62 del 7 marzo 2001. Gli aggiornamenti vengono effettuati senza alcuna scadenza fissa e/o periodicità |