It Appears Palin Is Jewish
judicial 24 Settembre 2008
Palin's Maternal Grandfather And Grandmother
Her maternal grandfather, Schmuel Sheigam, was a Lithuanian Jew, born in 1912 in Vilkaviskis, Lithuania, 91.2 miles west of Vilnius. The Sheigam family immigrated to America, via Hamburg, Germany in 1915 because of WWI. The grandmother was a Jewess named Gower.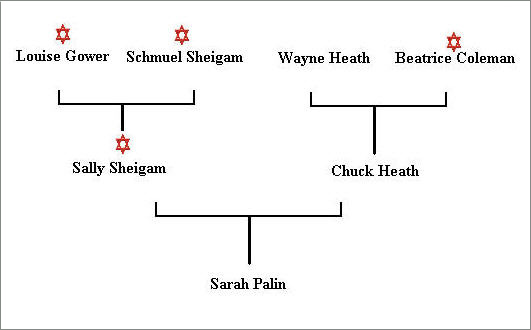 The Names Are Altered
At Ellis Island Immigration Centre, the name was entered as Sheeran, a standard practice of the time when immigration officers were unable to understand the pronunciation of non-English speaking immigrants. Sheeran is a common Irish name but members of the Sheigam family are buried in the Jewish cemetery at Budezeriai near Vilkaviskis:in Lithuania
Documentation
Further information on Governor Palin's ancestors can easily be found in the vital records in the Lithuanian State Historical Archives in Vilnius. The Archives holds birth, marriage, divorce, and death records for the Lithuanian Jewish community from 1851 until 1915 when the Jews were required to leave the country because of World War I. They are in 18th Century Cyrillic script and Yiddish Many of these records include the mother's maiden name and town of registration.


Palin's Paternal Grandfather And Grandmother
The grandmother's name was Coleman, and Palin's father looks to have Ashkazian blood.
Is Sarah Palin Jewish?
Yes and No. She is a fundamentalist Christian, but her mother was Jewish.
Sarah Sheerhan, Palin's mother married Charles Heath, an evangelical, who instilled a strong religious faith in the family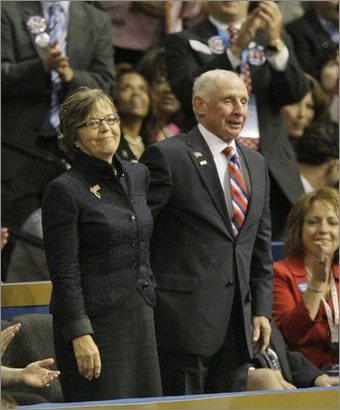 She was not a supporter of Pat Buchanan's presidential bid in 2000, as some Democratic partisans have falsely claimed. Buchanan, a very conservative Catholic, is not popular among most Jewish voters due to his far right-wing views on the relationship between church and state, his occasional positive statements on the Nazi movement, and his lack of support for Israel. In 2000 Palin supported Steve Forbes, not Buchanan.
Palin's Initial Backers
Palin was first introduced to politics by two Jewish fellas, Mayor John Stein, and police chief Irving Staumbaugh. They all meet at the local gym and worked out together. Stambaugh, the police chief and a member of Palin's step-aerobics class.
This Would Explain A Lot
Palin just didn't come out of nowhere. McCain won't last 8 years, so this girl will be president. The Zionists just didn't let her appear out of thin air.
Source > judicial-inc.biz