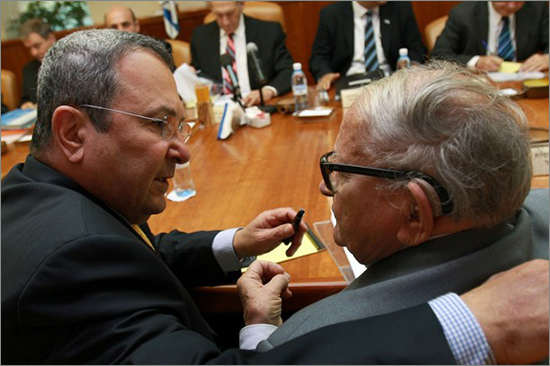 Israeli minister publicly endorses kidnapping
Middle East Online 09 Settembre 2008
Israeli Cabinet minister says kidnapping could be used on Iranian President
TEL AVIV
- An Israeli Cabinet minister said kidnapping could be used on Iranian President Mahmoud Ahmadinejad.
Ahmadinejad is not liked in Tel Aviv because of his strong criticism of the brutal Israeli occupation of the Palestinian territories.
Tel Aviv also fears that Tehran may develop its own nuclear weapon. Israel is the only country in the Middle East that actually has nuclear weapons, and wants to remain that way.
Israel currently occupies the Palestinian Gaza, West Bank, and east Jerusalem; Lebanese Shabaa Farms and Syrian Golan Heights.
"A man like Ahmadinejad who threatens genocide has to be brought for trial in The Hague," seat of the international war crimes tribunal, Rafi Eitan said Tuesday. "And all options are open in terms of how he should be brought."
Tel Aviv accuses Ahmadinejad of threatening it with 'genocide', a claim denied by Tehran. Ironically many accuse Israel itself of committing acts of genocide among other crimes against humanity.
Asked if kidnapping was acceptable, Eitan replied "Yes. Any way to bring him for trial in The Hague is a possibility."
Ironically, Ahmadinejad is not wanted by the Hauge, but there are Israeli figures that are wanted for suspected crimes against humanity.
Israeli Major General Doron Almog - wanted for alleged war crimes against Palestinians - was tipped off about plans to arrest him after he landed in London in September 2005 and refused to get off his plane, staying on board for two hours before returning to Israel.
Police was expected to arrest him when he travelled to Britain over war crime allegations accusing of him of ordering the destruction of more than 50 homes in the Gaza Strip.
A warrant had been issued by Chief London Magistrate Timothy Workman at Bow Street Magistrates' Court for his arrest for violating the Geneva Conventions.
But Israel's Almog managed to escape from the arrest of British police.
Former Israeli Chief of staff Dan Halutz and his predecessor Moshe Yaalon were accused of being involved in the same operation.
Under international law, Britain has a duty to arrest and prosecute alleged war crimes suspects if they arrive on its territory, even though the alleged offences occurred overseas.
In 2005, former Israeli PM Ariel Sharon had complained that he could be arrested himself on any visit to London.
Eitan, a member of Israel's inner Cabinet of ministers with security responsibilities, said he was expressing his own opinion and nothing more.
Eitan, 81, was a Mossad agent who headed a shadowy Defense Ministry unit that recruited Jonathan Pollard, a Jewish-American naval analyst who was caught spying for Israel in 1985 and sentenced to life in prison. The affair was one of the most damaging episodes in Israel-US relations.
Although he is barred from entering the United States over his role in the high-profile spy case, had been invited to dine with President George W. Bush during his stay in Jerusalem in 2008.
Pollard's wife Esther told the Jerusalem Post that her husband was "shocked and disgusted" by the fact that Eitan was invited to the president's dinner while he sat in jail.
Source > Middle East Online