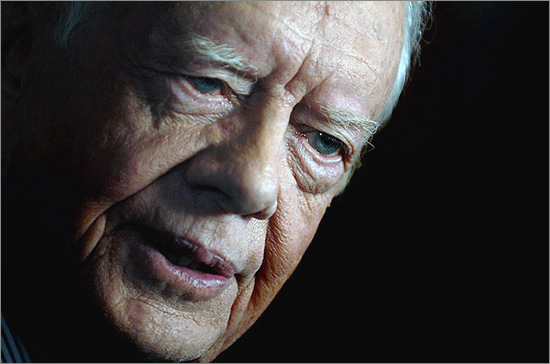 Carter: Gaza blockade is 'human rights crime'
Middle East Online 26 Maggio 2008
Former US president says failure of European Union to support Palestinian cause was 'embarrassing'
LONDON:
Former US president Jimmy Carter on Sunday described Israel's blockade of the Gaza Strip as "one of the greatest human rights crimes now existing on Earth."
In a speech at a literary festival in Hay-on-Wye, in Wales, the 83-year-old Nobel Peace Prize winner said: "There is no reason to treat these people this way," referring to the Israeli blockade on Gaza, in place since June 2007.
While president from 1977 to 1981, Carter was the architect of the landmark 1979 peace deal between Israel and Egypt, the first such treaty between the Jewish state and an Arab country.
According to Carter, the failure of the European Union to support the Palestinian cause was "embarrassing."
He said European countries should be "encouraging the formation of a unity government," including Hamas and Palestinian president Mahmud Abbas's rival Fatah movement.
"They should be encouraging Hamas to have a ceasefire in Gaza alone, as a first step," he told the invited guests.
"They should be encouraging Israel and Hamas to reach an agreement in prisoner exchange and, as a second step, Israel should agree to a ceasefire in the West Bank, which is Palestinian territory."
Earlier this month, Carter held two meetings in Damascus with exiled Hamas chief Khaled Meshaal. Hamas won in the 2006 Palestinian elections, but the US and the EU refuse to talk to the resistance movement, under pressure from Israel.
Since then, both Palestinian and Israeli officials have tried to downplay the importance of the meetings.
Carter also said the United States had to begin holding direct talks with Iran over the Islamic Republic's controversial nuclear programme, which the US believes is aimed at developing a nuclear bomb, despite Tehran's denials.
"We need to talk to Iran now, and continue our discussions with Iran, to let Iran know the benefits, and the detrimental side, of continuing with their nuclear programme," he said.

Source > Middle East Online (May 26)