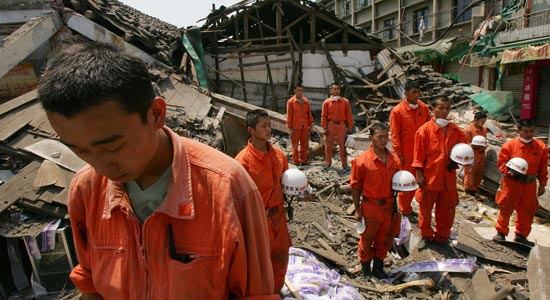 China on alert against quake radiation leaks
Reuters 19 Maggio 2008
BEIJING (Reuters)
- China is on precautionary alert against possible radiation leaks from the deadliest earthquake to hit the country in three decades, according to government website seen on Friday.
(Advertisement)
The disaster area is home to China's chief nuclear weapons research lab in Mianyang, as well as several secretive atomic sites, but no nuclear power stations.
Minister of Environmental Protection Zhou Shengxian convened an emergency meeting late on Monday, hours after the 7.9 magnitude tremor rocked the southwestern province of Sichuan, and activated the lowest tier of a four-stage system of ranking radiation leaks, the ministry said on its website (www.zhb.gov.cn).
President Hu Jintao flew to Mianyang on Friday, four days after the quake, which is thought to have killed more than 50,000 people, state television and the official Xinhua news agency reported, in an indication the risk was low.
Xinhua didn't say if Hu had inquired about nuclear facilities there.
But nuclear scientists were evacuated from the area as a precaution, a source with knowledge of the evacuation said.
"Everyone was evacuated. No one was left," the source, who requested anonymity, told Reuters.
"Mianyang was Hu Jintao's first stop (in Sichuan), evidence of the importance he attaches to the nuclear weapons base."
The Chinese Academy of Engineering Physics, also known as the Southwest Institute, in Mianyang is the primary design laboratory for Chinese nuclear weapons, according to www.globalsecurity.org.
A Western expert with knowledge of the Mianyang lab had said it was unlikely it was at serious risk.
A Chinese Foreign Ministry spokesman said this week he had not heard of damage to nuclear facilities in the disaster area when asked at a regular news briefing.
The China Nuclear Engineering and Construction Corp said six employees on construction sites were killed in the quake. It said on its website (www.cnecc.com) that several facilities in Sichuan were damaged, but did not mention any radiation leaks.
Source >
Reuters