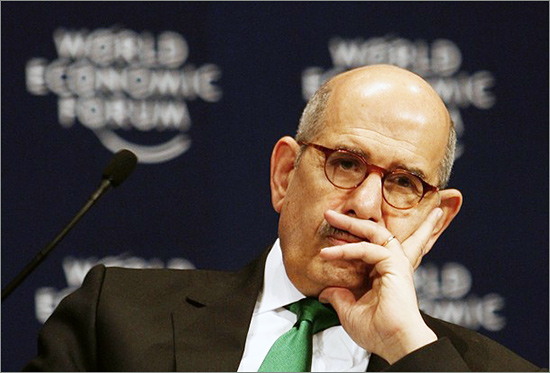 ElBaradei: If you attack Iran, I quit
Press TV 20 Giugno 2008
IAEA chief Mohamed ElBaradei says he will step down if major powers launch a military strike against Iran over its nuclear program
According to Al Ahram, in an interview with Al Arabiya television, the International Atomic Energy Agency Director General, said, Mehrnews agency reported. "A military invasion against Iran would pose great danger to the Middle East and the world."
Earlier this month, in his latest IAEA report over Iran's nuclear program, ElBaradei certified the non-diversion of declared nuclear material in the country's nuclear activities.
"Iran has provided the Agency with access to declared nuclear material and has provided the required nuclear material accountancy reports in connection with declared nuclear material and activities," the report read.
The report of ElBaradei's resignation comes amid widespread speculation that US President George W. Bush is drawing up secret plans with the help of Israel to launch a military strike on Iran before the end of his term in office.
With their blatant disregard for international reports conceding the peaceful nature of Iran's nuclear activities, world powers have ramped up their rhetoric against the Islamic Republic, accusing the country of running a covert nuclear weapons program.
Iran has repeatedly asserted that as a signatory to the nuclear Non Proliferation Treaty (NPT), it is entitled to enrich uranium for peaceful purposes, adding that the country does not seek nuclear bombs as such weapons have no place in its defense doctrine.
CS/HGH