Israel's real target in Gaza is not Hamas, says retired general
Todays Zaman 08 Gennaio 2009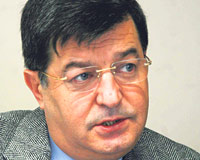 "This is a disproportionate war that erupted in accordance with developments in Israel's internal politics. Israel's internal politics have reached such a level that the more Palestinians die, the more support Israeli politicians will receive," Atılgan said in an interview with Today's Zaman.
The long-predicted invasion of Hamas-ruled Gaza followed a week of Israeli bombardment from land, sea and air. Many Palestinian civilians as well as Hamas fighters were killed and wounded as Israeli shells slammed into houses and Gaza streets. Israeli officials said the offensive could last many days.
"There has never been such a disproportionate war on earth as the Israeli offensive against the Palestinians. While one party is equipped with tanks, warplanes and satellite technology, the other party has almost nothing. Furthermore, the first party gets the support of many countries and silences the world media. A whole public, on the other hand, is forced to live in poverty in an area of a few kilometers. Palestine is witnessing the world's most cruel and disproportionate war," Atılgan stated.
He also emphasized the importance of the role of Turkey in pushing for a halt to the Israeli violence in the region.
"Our prime minister [Recep Tayyip Erdoğan] should go to Israel and tell them to stop the war. Turkey has the power to stop the humanitarian tragedy in Gaza. What Turkey says on the issue will be taken into consideration by Israel. Israel is not in a position to risk Turkey's friendship. There is no other country than Turkey in the region that will be listened to. Humanity has failed the people in the Middle East, which is witnessing violence no human can accept. However, humanity is silent to this violence and is doing almost nothing to stop it," Atılgan went on to say.
Atılgan indicated that it was time Turkey questioned its role as mediator between Israel and Syria, expressing disappointment at the launch of a massive offensive by Israel against defenseless Gazans soon after a meeting between Prime Minister Erdoğan and his Israeli counterpart, Ehud Olmert. He also said it would not be possible to restore peace in the Middle East as long as the United States supports Israel.
"As Syria and Israel were about to reach an agreement on the conflict over the Golan Heights in 1996, their initiatives ended in failure due to the pro-Israel policies of the US. Neither Israel nor the Arab countries can restore peace in the region. As long as hatred and enmity is pumped into the region, it is too hard to restore peace," he said.
Israel's target is not Hamas
Atılgan claimed that Israel's goal in the offensive is not to flush out Hamas fighters. "Is the target of this offensive Hamas? I don't think so. Hamas was founded with indirect aid from Israel to stand against Fatah forces. In time Hamas became the representative of between 70 to 80 percent of the Palestinians. But this reality is being disregarded by Israel. They see Hamas as an illegal terrorist organization. This is what the world thinks, too. However, this is a wrong belief," he argued.
Atılgan also blamed Israel for deceiving the whole world, including Turkey, about its bloody offensive. "Israel received great intelligence about Palestine during the cease-fire. Now, they are bombing houses in Gaza. While they were pretending to discuss peace, they were in fact determining targets to bomb. They all knew that the cease-fire would not last long," he noted.
Atılgan also said Iran would not take active steps to stop the Israeli violence. "Iran is one of the key countries in the Middle East. Its words are bigger than its power. Iran has never been in active conflict with Israel. It is currently busy with the carrot given to it for its nuclear program. Anxiously waiting for a nuclear package from the US administration, I don't think Iran will get involved in the Palestine tragedy," he said.
Atılgan reiterated his belief in Turkey's power to stop the Palestinians' suffering. "There is no country in the region but Turkey that will be listened to by Israel. Israel's military power is sufficient to destroy a few countries. Israel built up its military strategy to destroy all factors that may pose a threat to it in the future. This is why the nuclear plant in Iraq was destroyed. This is why Iran is not allowed to have nuclear technology. This is a dangerous strategy," he noted.
He also asserted that it was the US that benefited from anti-Americanism in Turkey most, adding that he wondered whether anti-Americanism in Turkey was promoted by the US itself.
'We don't train Israeli pilots'
The retired general, who once had a high-ranking position in the Turkish Air Force, denied claims that Israeli Air Force pilots, which are currently destroying Gaza with bombs, had been brought to Turkey for training.
"Turkey signed an agreement of military cooperation with Israel in 1996, when Arab countries sided with Syria against Turkey on the water crisis. The aim of this agreement was to protect Turkey against threats that might come from the south. Turkey doesn't just have military agreements with Israel; we have such agreements with around 40 countries," he said.
Source > Todays Zaman | Jan 07