Japan's Stance on U.S. Base Jolts Alliance
Defense News 25 Ottobre 2009
Giappone si ribella al Pentagono in nome della volontà popolare: non era mai successo prima.

TOKYO
- The U.S.-Japan security alliance has been strained as Tokyo's new center-left leaders, in a row over a U.S. military base, make good on their promise to be less subservient to Washington, analysts say.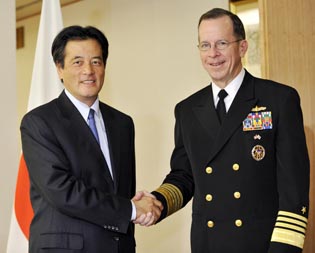 The five-week-old government has repeatedly signaled it may scrap an agreement to build a new airbase on the southern island of Okinawa, where many residents have long objected to the existing American military presence.
The tone hardened this week when U.S. Defense Secretary Robert Gates told Prime Minister Yukio Hatoyama's government to quickly "move on" and resolve the issue before President Barack Obama visits Japan next month.
Foreign Minister Katsuya Okada shot back later, saying "I don't think we will act simply by accepting what the U.S. tells us."
Reviewing the base issue, he added, reflected the will of the people.
On Oct. 23, Okada relented somewhat, saying new facilities could be built on the island but suggesting they be merged with another U.S. site, the Kadena Air Base, a plan also not favored by the United States.
Political observers have taken notice of the new tone in Japan.
"Hatoyama's 'no' is the first time Japan is rebelling against the US in decades," said political analyst Minoru Morita, warning that "Japan-U.S. relations are in danger."
Some commentators warned that Japan's new government is allowing domestic politics to threaten the security alliance that protected Japan through the Cold War and ever since.
The conservative newspaper Sankei Shimbun in an editorial said the government lacked responsibility and should take seriously Gates' comments as a "warning that the Japan-U.S. alliance could come to a rupture."
Hatoyama signaled during his election campaign that although he values the U.S. alliance, he would also seek a "more equal" relationship.
His government, which ended half a century of conservative rule, has said it will end a naval refueling mission that has supported the NATO-led Afghanistan campaign since 2001.
Washington initially played down such comments as campaign rhetoric by Hatoyama's Democratic Party of Japan (DPJ), which had never been in government. But concern has grown, especially over the base issue.
The Washington Post on Oct. 22 quoted an unnamed U.S. State Department official as saying: "The hardest thing right now is not China. It's Japan."
The flashpoint has been the new government's pledge to "review" a 2006 agreement to rejig the 47,000-strong troop presence in the country, where American service members have been based since World War II.
Under the plan, the Marine Corps' Futenma Air Base, located in an urban area of Okinawa, would be closed and replaced with a new facility in a coastal area of the island by 2014, while 8,000 Marines would be moved to Guam.
Gates warned Oct. 21 that reneging on the Futenma deal would unravel the wider pact, including the handover by Washington of the current base on Okinawa, an island dubbed America's "unsinkable aircraft carrier."
Okinawa is of key strategic importance for the U.S. military, as it lies near mainland China and Taiwan, close to North Korea, and can act as a stepping stone to Afghanistan and the Middle East.
Takehiko Yamamoto, professor of international politics at Waseda University, said: "The current uncertainty over the Futenma airbase is accelerating a sense of distrust toward the DPJ, especially among Pentagon officials."
Mikitaka Masuyama, politics professor at the National Graduate Institute for Policy Studies, said moving the base off Okinawa would sour relations with Washington, but doubted such a scenario would occur.
"Even if it has promised in its election campaign to relocate the base outside Okinawa, it must by now have realised that in reality there is no such option," he said. "If there was, the LDP government would have done it much earlier."
By KYOKO HASEGAWA

Source > Defense News | oct 23